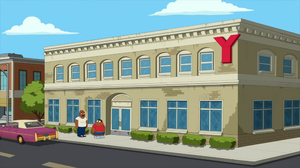 The Young Men's Christian Association, commonly known as YMCA or simply the Y, is a worldwide organization with more than 58 million beneficiaries from 125 national associations. It was founded on 6 June 1844 in London and it aims to put Christian principles into practice by developing a healthy "body, mind and spirit".
When LeVar Brown is supposed to take Cleveland Brown Jr. to his cake decorating class at Kay Kay Cakes in "Wheel! Of! Family!", he instead takes him to the Y to toughen him up with athletics. When he finds that Junior has slipped out of the gym to attend pole dancing classes instead, he puts his foot down despite protests that Junior is a natural that they need for the regional competition. The other dance class members come to Junior and tell him they need him for the regionals and threaten to quit the class if Junior can't join them and stand up to his grandfather.
Ad blocker interference detected!
Wikia is a free-to-use site that makes money from advertising. We have a modified experience for viewers using ad blockers

Wikia is not accessible if you've made further modifications. Remove the custom ad blocker rule(s) and the page will load as expected.