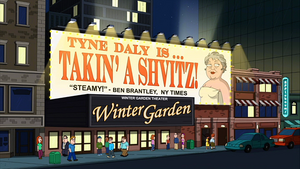 The Winter Garden Theatre is a Broadway theatre located at 1634 Broadway in midtown-Manhattan. The theatre's longest tenant was Cats, which opened on October 7, 1982 and ran 7,485 performances spanning nearly nineteen years. The auditorium had been gutted to accommodate the show's junkyard setting, and after its closing architect Francesca Russo supervised its restoration, returning it to its 1920s appearance.
The Winter Garden Theatre is where Tyne Daly has her one woman show, Takin' A Shvitz in "Once Upon a Tyne in New York". Cleveland takes Donna there on the pretense of a date but in reality he is trying to reconnect Coach McFall with his old flame Tyne.
Ad blocker interference detected!
Wikia is a free-to-use site that makes money from advertising. We have a modified experience for viewers using ad blockers

Wikia is not accessible if you've made further modifications. Remove the custom ad blocker rule(s) and the page will load as expected.