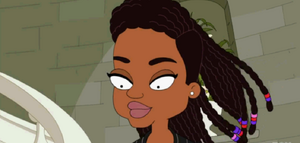 Willow Camille Reign Smith (born October 31, 2000), is an American child actress and singer who is the daughter of Will Smith and Jada Pinkett Smith. She made her acting debut in 2007 in the film I Am Legend and later appeared in Kit Kittredge: An American Girl.
Willow is shown as the demon princess, one of the co-stars in the fictional film The Cleveland Show: The Movie in the opening of "The Way the Cookie Crumbles".
Ad blocker interference detected!
Wikia is a free-to-use site that makes money from advertising. We have a modified experience for viewers using ad blockers

Wikia is not accessible if you've made further modifications. Remove the custom ad blocker rule(s) and the page will load as expected.