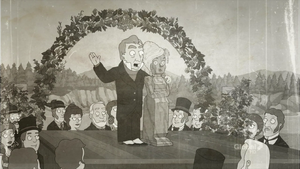 William Henry Harrison (February 9, 1773 – April 4, 1841) was the ninth President of the United States (1841), an American military officer and politician, and the first president to die in office. He was 68 years, 23 days old when inaugurated, the oldest president to take office until Ronald Reagan in 1981, and last President to be born before the United States Declaration of Independence. Harrison died on his 32nd day in office of complications from pneumonia, serving the shortest tenure in United States presidential history.
As the story told by Goochland goes in "Escape From Goochland", Harrison became so enamored of Goochland during a visit that after his death he left the wooden figure of his wife Eunice Henry Harrison to the town.
Ad blocker interference detected!
Wikia is a free-to-use site that makes money from advertising. We have a modified experience for viewers using ad blockers

Wikia is not accessible if you've made further modifications. Remove the custom ad blocker rule(s) and the page will load as expected.