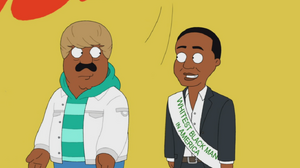 Wayne Alphonso Brady (born June 2, 1972) is an actor, singer, comedian and television personality, known for his work as a regular on the American version of the improvisational comedy television series Whose Line Is It Anyway?, and as the host of the daytime talk show The Wayne Brady Show. He was the original host of FOX's Don't Forget the Lyrics!, and currently hosts the 2009 revival of Let's Make a Deal.
Cleveland comes up with a witty insult for Robert Tubbs in "A Cleveland Brown Christmas" and dives it home by stating that Wayne Brady can suck on it.
Cleveland dethrones Wayne Brady as "The Whitest Black Man in America" in "The Men in Me", a title that Brady is happy to relinquish.
Ad blocker interference detected!
Wikia is a free-to-use site that makes money from advertising. We have a modified experience for viewers using ad blockers

Wikia is not accessible if you've made further modifications. Remove the custom ad blocker rule(s) and the page will load as expected.