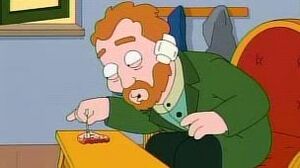 Vincent Willem van Gogh (30 March 1853 – 29 July 1890) was a Dutch Post-Impressionist artist. He was a pioneer of Expressionism with enormous influence on 20th century art. Some of his paintings are now among the world's best known, most popular and expensive works of art.
Van Gogh discovers the Q-Tip in The One About Friends
He is voiced by Mike Henry.
Ad blocker interference detected!
Wikia is a free-to-use site that makes money from advertising. We have a modified experience for viewers using ad blockers

Wikia is not accessible if you've made further modifications. Remove the custom ad blocker rule(s) and the page will load as expected.