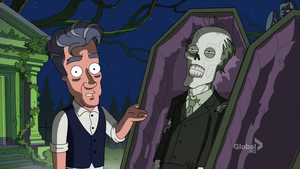 Vincent Leonard Price, Jr. (May 27, 1911 – October 25, 1993) was an American actor, well known for his distinctive voice and serio-comic attitude in a series of horror films made in the latter part of his career.
In "Nightmare on Grace Street", Gus, the bartender of The Broken Stool opens Vincent Price's casket to take his leg for one of his "hairy turkey sandwiches" that he serves to Cleveland Brown.
Ad blocker interference detected!
Wikia is a free-to-use site that makes money from advertising. We have a modified experience for viewers using ad blockers

Wikia is not accessible if you've made further modifications. Remove the custom ad blocker rule(s) and the page will load as expected.