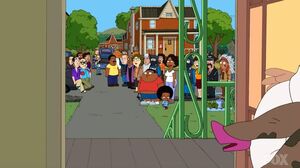 Village People is a concept disco group formed in the late 1970s, well known for their on-stage costumes as well as their catchy tunes and suggestive lyrics. Original members were: Victor Willis (police officer), Felipe Rose (American Indian chief), Randy Jones (cowboy), Glenn Hughes (biker), David Hodo (construction worker) and Alex Briley (Military man). For the release of "In the Navy", Willis and Briley appeared as an admiral and a sailor, respectively. Originally created to target disco's primarily gay audience by featuring stereotypical gay fantasy personas, the band's popularity quickly brought them into mainstream.
Village People scored a number of disco and dance hits, including their trademark "Macho Man", "Go West", the classic club medley of "San Francisco (You've Got Me) / In Hollywood (Everybody is a Star)", "In the Navy", "Can't Stop the Music", and their biggest hit, "Y.M.C.A.".
Ray Simpson, at one time the cop, appears at Holt's bust and voices himself. The Indian and the biker appear outside Holt's house when he carries Kimi inside at the end of "Buried Pleasure".
Ad blocker interference detected!
Wikia is a free-to-use site that makes money from advertising. We have a modified experience for viewers using ad blockers

Wikia is not accessible if you've made further modifications. Remove the custom ad blocker rule(s) and the page will load as expected.