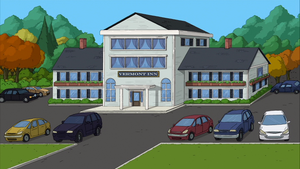 The Vermont Inn is where Cleveland and Donna stay when they travel to Vermont to re-certify their marriage after Donna reveals that she was never completely divorced from Robert Tubbs, as well as attend Paul and Terry's wedding in "Terry Unmarried".
On the day of the wedding, Cleveland struggles to put on his pants, Paul arrives in tears reporting that Terry has taken off after getting cold feet.
Ad blocker interference detected!
Wikia is a free-to-use site that makes money from advertising. We have a modified experience for viewers using ad blockers

Wikia is not accessible if you've made further modifications. Remove the custom ad blocker rule(s) and the page will load as expected.