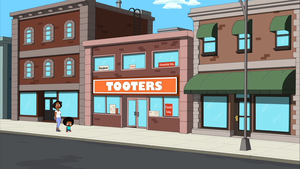 Tooters is the tutoring specialist that Donna takes Rallo to in order to prepare him for the Stoolbend Quiz Bowl in "BFFs".
Instead of learning math, Rallo manages to beat the tutor at poker, of which he pays for the $200 class leaving himself a net profit of $1.40. Donna has to endure the criticism of the other mothers who are skeptical of Rallo's abilities during the quiz bowl.
Ad blocker interference detected!
Wikia is a free-to-use site that makes money from advertising. We have a modified experience for viewers using ad blockers

Wikia is not accessible if you've made further modifications. Remove the custom ad blocker rule(s) and the page will load as expected.