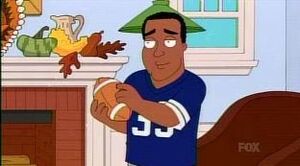 Anthony "Tony" Drew Dorsett is a former American football running back in the National Football League for the Dallas Cowboys and Denver Broncos. Dorsett was a college football running back at the University of Pittsburgh, and helped lead them to a national title in 1976, picking up the Heisman Trophy.
He appears in the beginning of "A Brown Thanksgiving" during the mock celebrity gala.
Ad blocker interference detected!
Wikia is a free-to-use site that makes money from advertising. We have a modified experience for viewers using ad blockers

Wikia is not accessible if you've made further modifications. Remove the custom ad blocker rule(s) and the page will load as expected.