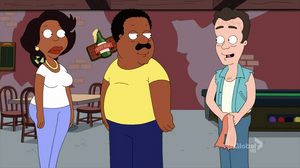 Thomas Jeffrey "Tom" Hanks (born July 9, 1956) is an American actor, producer, writer, and director. Hanks is known for his roles in Apollo 13, Big, That Thing You Do!, The Green Mile, You've Got Mail, Sleepless in Seattle, Forrest Gump, Cast Away, A League of Their Own, The Da Vinci Code, Angels & Demons, as well as animated films like the Toy Story film series.
Cleveland uses Tom Hanks in the role of Lester when he tries to convince his family to return to Stoolbend in "California Dreamin'". Gina puts together an elaborate production of stand-ins to convince the family that Cleveland has returned home and they should do the same.
Ad blocker interference detected!
Wikia is a free-to-use site that makes money from advertising. We have a modified experience for viewers using ad blockers

Wikia is not accessible if you've made further modifications. Remove the custom ad blocker rule(s) and the page will load as expected.