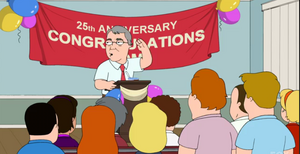 Tom was a supervisor at Waterman Cable who died during his 25th anniversary party with the company in "Like a Boss". Upon his death, everyone rushed into his office, to search the place for his things. At his funeral, Cleveland tries to convince Terry Kimple into taking the supervisor's job so they could both benefit. Donna convinces Cleveland to try for the promotion himself and not play second fiddle to Terry. Mr. Waterman surprises them both by giving the position to Tim who quickly proves to be a taskmaster.
Tom was voiced by Tom Devanney.
Ad blocker interference detected!
Wikia is a free-to-use site that makes money from advertising. We have a modified experience for viewers using ad blockers

Wikia is not accessible if you've made further modifications. Remove the custom ad blocker rule(s) and the page will load as expected.