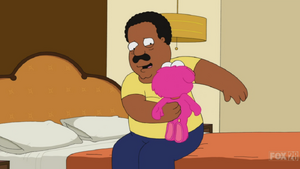 Tickle Me Elmo is a children's toy from Tyco Preschool, a division of Tyco Toys, based on the character Elmo from the children's television show, Sesame Street. When squeezed, Elmo would chortle. When squeezed three times in a row, Elmo would begin to shake and laugh hysterically. The toy was introduced in the United States in 1996, quickly becoming a fad.
Donna takes away Rallo's Tickle Me Elmo as a punishment for his pranks in "American Prankster". Cleveland Brown later plays with the doll until he accuses it of tickling too hard and throws it down.
Ad blocker interference detected!
Wikia is a free-to-use site that makes money from advertising. We have a modified experience for viewers using ad blockers

Wikia is not accessible if you've made further modifications. Remove the custom ad blocker rule(s) and the page will load as expected.