Theodore Parker, Jr. III
Talk

0
1,437pages on
this wiki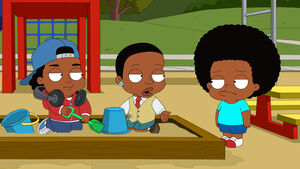 Theodore Parker, Jr. III is one of Rallo's friends who tends to hang out with Bernard. Theodore wears a red jacket and is voiced by T-Pain. In "Your Show of Shows", T-Pain is identified as Theodore's uncle.
In "A Short Story and a Tall Tale". Bernard and Theodore find a breast augmentation pamphlet and talk Rallo into blowing off his impending marriage to Trish Barty to make a ramp to push toys cars on it.
When hearing that Rallo was getting married, Theodore immediately questioned the ethnicity of the bride-to-be, and responded with a sarcastic "of course" upon hearing that it was a white woman. This, coupled with his clothing, would seem to indicate that Theodore is more stereotypical, serving as almost a foil to Bernard.
Appearances
Edit