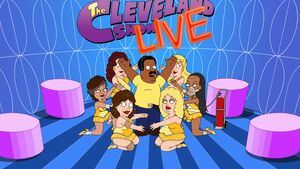 Solid Gold was an American syndicated music countdown television series which aired from 1980 to 1988, usually on Saturday in the early evening time slot. During its 7th season (1986 to 1987), it was renamed Solid Gold '86/'87, and in its 8th season (1987 to 1988) it was retitled Solid Gold in Concert.
The main premise of Solid Gold consisted of the "Solid Gold Dancers" doing elaborate dances to the top ten hits of the week.
The opening of "Cleveland Live!" features Cleveland performing the opening theme with the Original Solid Gold Dancers, who are depicted as being elderly, out of shape and in poor health.
Ad blocker interference detected!
Wikia is a free-to-use site that makes money from advertising. We have a modified experience for viewers using ad blockers

Wikia is not accessible if you've made further modifications. Remove the custom ad blocker rule(s) and the page will load as expected.