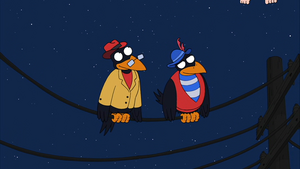 The Jim Crows are animated characters created by Otto Englander, Joe Grant, Dick Huemer, and Walt Disney in the 1941 animated feature film, Dumbo.
The Jim Crows appear in "Skip Day" as Kendra Krinklesac is being lifted by crane after being knock from her scooter by Rallo Tubbs. As in Dumbo, they remark on never having seen an elephant fly. The show then ends for the commercial break as Cleveland Brown Jr. appears dressed as Tinkerbell for The Wonderfully Racist World of Disney.
Ad blocker interference detected!
Wikia is a free-to-use site that makes money from advertising. We have a modified experience for viewers using ad blockers

Wikia is not accessible if you've made further modifications. Remove the custom ad blocker rule(s) and the page will load as expected.