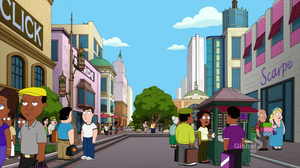 The Grove is where Gina takes Cleveland when he finds out that scouting involves lots of real work after being given his dream job in California by Donna in "California Dreamin'".
Depressed that the family is having fun while he isn't. Cleveland meets his new neighbor, an aspiring actress named Gina and she takes him to The Grove, a community that makes Cleveland homesick for Stoolbend, noting that it has many of the same feautes such as fountain and a trolley that Stoolbend once had.
Ad blocker interference detected!
Wikia is a free-to-use site that makes money from advertising. We have a modified experience for viewers using ad blockers

Wikia is not accessible if you've made further modifications. Remove the custom ad blocker rule(s) and the page will load as expected.