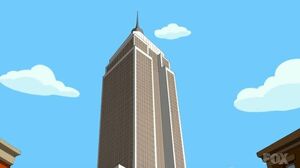 The Empire State Building is a 102-story landmark Art Deco skyscraper in New York City at the intersection of Fifth Avenue and West 34th Street. Its name is derived from the nickname for the state of New York, The Empire State. It stood as the world's tallest building for more than forty years, from its completion in 1931 until construction of the World Trade Center's North Tower was completed in 1972. Following the destruction of the World Trade Center in 2001, the Empire State Building once again became the tallest building in New York City and New York State.
Donna waits for Cleveland at the Empire State Building while he goes to rescue Tim from The Nut Bush gay bar in "Once Upon a Tyne in New York".
Ad blocker interference detected!
Wikia is a free-to-use site that makes money from advertising. We have a modified experience for viewers using ad blockers

Wikia is not accessible if you've made further modifications. Remove the custom ad blocker rule(s) and the page will load as expected.