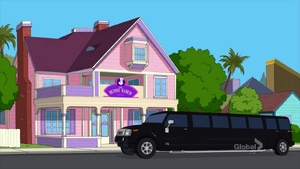 The Bunny Ranch is one of the stops that Rallo and Cleveland Brown Jr. make with their "escort" when they hit it big at a slot machine in Las Vegas in "Another Bad Thanksgiving". Although such places are euphemisms for places of prostitution in Nevada, this place indeed has rabbits available.
Ad blocker interference detected!
Wikia is a free-to-use site that makes money from advertising. We have a modified experience for viewers using ad blockers

Wikia is not accessible if you've made further modifications. Remove the custom ad blocker rule(s) and the page will load as expected.