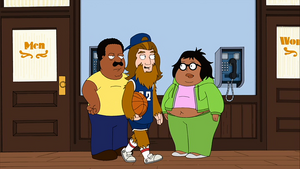 Teen Wolf is an American film released on August 23, 1985 by Atlantic Releasing Corporation starring Michael J. Fox as Scott Howard, a high school student who discovers that his family has an unusual pedigree when he finds himself transforming into a werewolf.
When Cleveland inquires of a disguised Roberta about the comedy school she is attending in "Love Rollercoaster", the Teen Wolf exits from a restroom and says hello on his way off screen.
Teen Wolf is voiced by Seth MacFarlane.
Ad blocker interference detected!
Wikia is a free-to-use site that makes money from advertising. We have a modified experience for viewers using ad blockers

Wikia is not accessible if you've made further modifications. Remove the custom ad blocker rule(s) and the page will load as expected.