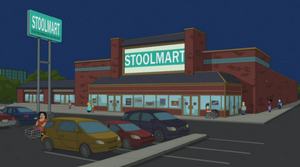 Stoolmart is a grocery store in Stoolbend.
When Cleveland Brown Jr. takes Rallo there during his nap in "Yemen Party". When Rallo spots jars of "Newman's Own blood" at Stoolmart with Paul Newman's ubiquitous face on the label, Rallo discovers he can control Cleveland Jr.'s movements while in a baby carrier at the store. Jr. decides to play along and plugs himself into Rallo in the style of Avatar and they set off in search of Big-Boob June.
Junior and Cleveland Brown protest the killing of turkeys outside of Stoolmart in "Turkey Pot Die".
Ad blocker interference detected!
Wikia is a free-to-use site that makes money from advertising. We have a modified experience for viewers using ad blockers

Wikia is not accessible if you've made further modifications. Remove the custom ad blocker rule(s) and the page will load as expected.