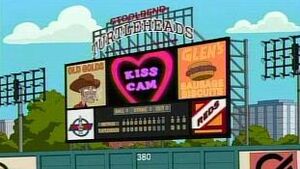 Stoolbend Stadium is home to the minor-league baseball team, the Stoolbend Mudturtles. In "Cleveland Jr. Cherry Bomb", Shortstop George makes a nice (for him) one-bounce throw to first base. The Stadium 'Kiss Cam', sponsored by Waterman Cable, encourages various couples to kiss including Bert & Ernie and Roberta and Federline Jones.
In "Brownsized", Cleveland treats the guys to a ball game where he spends his severance pay after getting laid off from Waterman Cable, forgetting that the money needed to last until he could find a new job. When he decides to turn the game into a job hunting opportunity to please Donna, he asks the manager if he needs a third baseman. When he is rejected, he settles for ordering an entire tray of warm beer for himself and the guys.
Ad blocker interference detected!
Wikia is a free-to-use site that makes money from advertising. We have a modified experience for viewers using ad blockers

Wikia is not accessible if you've made further modifications. Remove the custom ad blocker rule(s) and the page will load as expected.