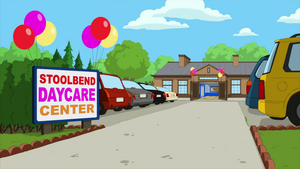 The Stoolbend Daycare Center was Rallo's daycare while he was a toddler. In "BFFs", Rallo receives an invitation to the two year Daycare Center graduation reunion. At the reunion, Donna and Rallo find out the other children are progressing much more quickly and when Donna is worried that Rallo is being left behind, enters him in a Quiz Bowl to demonstrate that Rallo is just as smart as the other children.
When Rallo first receives the invitation to the reunion, he originally believes it is a request for more money from his old teacher, Cindy Greg.
Ad blocker interference detected!
Wikia is a free-to-use site that makes money from advertising. We have a modified experience for viewers using ad blockers

Wikia is not accessible if you've made further modifications. Remove the custom ad blocker rule(s) and the page will load as expected.