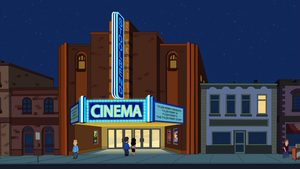 The Stoolbend Cinema is the film house that Cleveland Brown Jr. takes Joanna to see "Tyler Perry presents: Tyler Perry in The Tyler Perry Story" in "Back To Cool" after ditching his dad Cleveland and enlisting the help of Robert Tubbs.
Cleveland and Donna discover the ruse when they arrive to find Robert already there to drop the couple off as Junior pretends that Robert is really his father.
Ad blocker interference detected!
Wikia is a free-to-use site that makes money from advertising. We have a modified experience for viewers using ad blockers

Wikia is not accessible if you've made further modifications. Remove the custom ad blocker rule(s) and the page will load as expected.