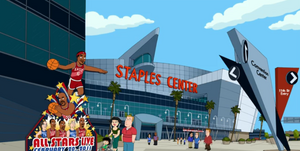 The Staples Center is a multi-purpose sports arena in Downtown Los Angeles. Adjacent to the L.A. Live development, it is located next to the Los Angeles Convention Center complex along Figueroa Street. Opening on October 17, 1999, it is one of the major sporting facilities in the Los Angeles metropolitan area and Greater Los Angeles Area.
Cleveland and Donna attend the NBA All-Star game at the Staples Center in "A Short Story and a Tall Tale". Arriving late for the game, they spot several celebrities. From their courtside seats, Cleveland hurls insults at the player who later decide to play Cleveland a visit in Stoolbend.
Ad blocker interference detected!
Wikia is a free-to-use site that makes money from advertising. We have a modified experience for viewers using ad blockers

Wikia is not accessible if you've made further modifications. Remove the custom ad blocker rule(s) and the page will load as expected.