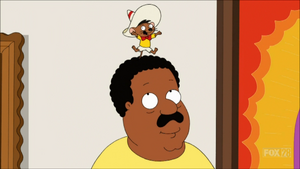 Speedy Gonzales is an animated caricature of a mouse in the Warner Brothers Looney Tunes and Merrie Melodies series of cartoons. He is portrayed as "The Fastest Mouse in all Mexico" with his major traits being the ability to run extremely fast and speaking with an exaggerated Mexican accent. He usually wears an oversized yellow sombrero, white shirt and trousers, and a red kerchief, similar to that of a reveler in the San Fermin festival.
Speedy appears during "I Love L-A-T-I-N-O-S" in "There Goes El Neighborhood" when Choni explains Mexican culture to Cleveland Brown.
Ad blocker interference detected!
Wikia is a free-to-use site that makes money from advertising. We have a modified experience for viewers using ad blockers

Wikia is not accessible if you've made further modifications. Remove the custom ad blocker rule(s) and the page will load as expected.