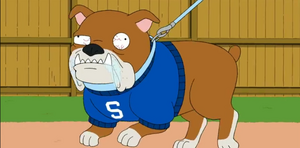 Sparky was the Stoolbend High School Growler's mascot in "Little Man on Campus". After having been attacked earlier in the week by a raccoon, Sparky attacks Stoolbend star pitcher Oliver Wilkerson while being walked around the baseball diamond by Lloyd Waterman. Mr. Waterman is forced to shoot him, although he misses his first shot and hits Oliver in the leg before finally killing Sparky.
Ad blocker interference detected!
Wikia is a free-to-use site that makes money from advertising. We have a modified experience for viewers using ad blockers

Wikia is not accessible if you've made further modifications. Remove the custom ad blocker rule(s) and the page will load as expected.