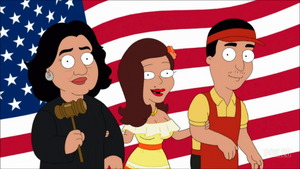 Sonia Maria Sotomayor (born June 25, 1954) is an Associate Justice of the Supreme Court of the United States, serving since August 2009. Sotomayor is the Court's 111th justice, its first Hispanic justice, and its third female justice.
Sotomayor is shown and referenced during "I Love L-A-T-I-N-O-S" in "There Goes El Neighborhood" when Choni explains Mexican culture to Cleveland Brown.
Ad blocker interference detected!
Wikia is a free-to-use site that makes money from advertising. We have a modified experience for viewers using ad blockers

Wikia is not accessible if you've made further modifications. Remove the custom ad blocker rule(s) and the page will load as expected.