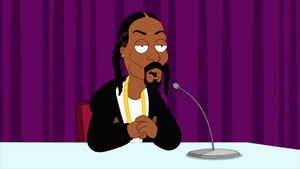 Cordozar Calvin Broadus (born October 20, 1971), better known by his stage name Snoop Dogg, is an American entertainer, rapper, record producer and actor.
Snoop provides his own voice in "Back To Cool". Snoop's appearance on the show is somewhat ironic, because he said to Seth MacFarlane, at the Comedy Central Roast of Donald Trump, "Ain't no niggas watchin' The Cleveland Show."
Ad blocker interference detected!
Wikia is a free-to-use site that makes money from advertising. We have a modified experience for viewers using ad blockers

Wikia is not accessible if you've made further modifications. Remove the custom ad blocker rule(s) and the page will load as expected.