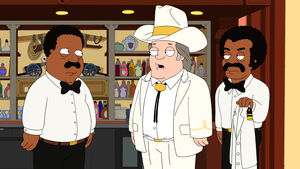 Slim Biggins is the operator of the Big Nugget Riverboat Casino where Cleveland is cheated out of Roberta's college fund in "Cleveland's Angels". When Cleveland is given menial jobs and then cheated on his pay in an effort to earn back the money, he observes a dealer drawing cards from a hidden deck to cheat Holt out of his car. When Cleveland tells Donna, Kendra and Arianna what happened, Kendra recognizes the scheme and they plan a retaliatory operation to recover the money. When they succeed, Kendra starts to tell of knowing Slim as Russell, a bureau chief in Rome, whereupon she is cut off from her story by Cleveland. In an effort to stop Cleveland and the girls from escaping with the money, Slim and his henchpeople Miss Bazoombas and Ted Lange attack but the gang get away when Holt steals back the car he previously lost.
Slim also appears at the wedding in "You're the Best Man, Cleveland Brown".
Slim is voiced by Brad Leland
Ad blocker interference detected!
Wikia is a free-to-use site that makes money from advertising. We have a modified experience for viewers using ad blockers

Wikia is not accessible if you've made further modifications. Remove the custom ad blocker rule(s) and the page will load as expected.