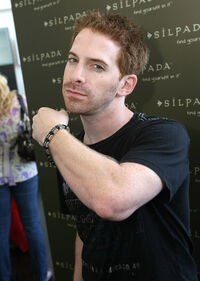 Seth Green (born February 8, 1974 in Philadelphia, Pennsylvania) performs the voice of Chris Griffin on Family Guy as well as other assorted voices.
In addition to his Family Guy roles, he is known for his portrayal of Oz, Willow's ex-boyfriend and laid back werewolf on Buffy the Vampire Slayer. He has been in a number of films including the Austin Powers series as Scott.
With Matthew Senreich, Green co-created and writes the Robot Chicken program for Cartoon Network's Adult Swim.
Seth reprised the role of Chris in the "Pilot" and "Our Gang" and was the voice of Kurt Cobain in "Da Doggone Daddy-Daughter Dinner Dance". Seth also provided assorted voices in "Das Shrimp Boot".
Ad blocker interference detected!
Wikia is a free-to-use site that makes money from advertising. We have a modified experience for viewers using ad blockers

Wikia is not accessible if you've made further modifications. Remove the custom ad blocker rule(s) and the page will load as expected.