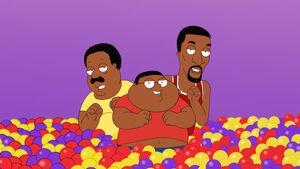 Scottie Maurice Pippen is a retired American professional basketball player who played in the National Basketball Association (NBA). He is most remembered for his time with the Chicago Bulls, with whom he was instrumental to six NBA Championships and their record 1996 season of 72 wins.
Scottie Pippen appears and guest voices himself in "Love Rollercoaster", where he sings "Balls Deep in Love" with Cleveland Jr. while applying for a job at Cheese E. Charlie's.
Ad blocker interference detected!
Wikia is a free-to-use site that makes money from advertising. We have a modified experience for viewers using ad blockers

Wikia is not accessible if you've made further modifications. Remove the custom ad blocker rule(s) and the page will load as expected.