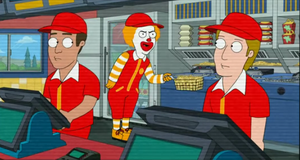 Ronald McDonald is the main symbol for McDonald's fast-food restaurant chain. He is a clown character used as the primary mascot of the McDonald's fast-food restaurant chain. In television commercials, the clown inhabits a fantasy world called McDonaldland, and has adventures with his friends Mayor McCheese, the Hamburglar, Grimace, Birdie the Early Bird, and The Fry Kids. In recent years, McDonaldland has been largely phased out, and Ronald is instead shown interacting with normal kids in their everyday lives.
Ronald McDonald appears in "It's the Great Pancake, Junior Brown" When Cleveland Jr. watches the show Undercover Boss. When a McDonald's employee admits he doesn't wash his hands after using the restroom, Ronald takes off his disguise and tells the employee he is fired.
Ad blocker interference detected!
Wikia is a free-to-use site that makes money from advertising. We have a modified experience for viewers using ad blockers

Wikia is not accessible if you've made further modifications. Remove the custom ad blocker rule(s) and the page will load as expected.