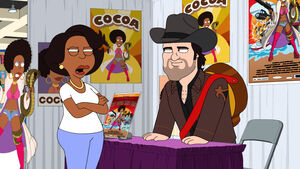 Robert Anthony Rodríguez (born June 20, 1968) is an American film director, screenwriter, producer, cinematographer, editor and musician. He has directed such films as Desperado (1995), From Dusk Till Dawn (1996), The Faculty (1998), Spy Kids (2001), Sin City (2005), Planet Terror (2007). He also produced the latest installment in the Predator series, Predators (2010). He often serves as several critical roles behind the scenes of his movies, earning him the nickname "One-Man Film Crew"
Rodriguez appears as himself in the "Hot Cocoa Bang Bang", planning to release a blaxploitation film starring Donna.
Ad blocker interference detected!
Wikia is a free-to-use site that makes money from advertising. We have a modified experience for viewers using ad blockers

Wikia is not accessible if you've made further modifications. Remove the custom ad blocker rule(s) and the page will load as expected.