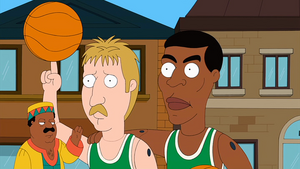 Robert Lee Parish (born August 30, 1953) is a retired American basketball center. He was known for his strong defense and jump shooting, and was elected to the Basketball Hall of Fame in 2003.
Larry Bird and Robert Parish are shown as figures on a float that Cleveland and Lester are forced to create in the Stoolbend Unity Parade in "Brown History Month".
Ad blocker interference detected!
Wikia is a free-to-use site that makes money from advertising. We have a modified experience for viewers using ad blockers

Wikia is not accessible if you've made further modifications. Remove the custom ad blocker rule(s) and the page will load as expected.