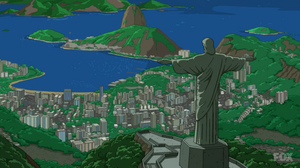 Rio de Janeiro, commonly referred to simply as Rio, is the capital city of the State of Rio de Janeiro, the second largest city of Brazil and the third largest metropolitan area and agglomeration in South America, 6th largest in the Americas and 26th in the world.
Cleveland has an extended fantasy of faking his own death and fleeing to Rio de Janeiro, Brazil to become a bull rider in order to avoid helping out Donna in "Beer Walk!".
Ad blocker interference detected!
Wikia is a free-to-use site that makes money from advertising. We have a modified experience for viewers using ad blockers

Wikia is not accessible if you've made further modifications. Remove the custom ad blocker rule(s) and the page will load as expected.