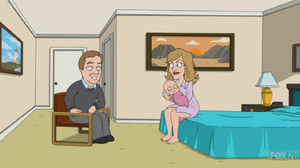 Rielle Hunter (born March 20, 1964) is an American actress and film producer. She is known for having had an affair with and conceiving a child with 2004 Democratic Party vice-presidential nominee John Edwards.
When Donna questions where Rallo learned how to give insincere apologies in "American Prankster", he states it was from watching John Edwards. A cutaway gag shows John apologizing for making Rielle Hunter wait for him to propose until her baby died.
Ad blocker interference detected!
Wikia is a free-to-use site that makes money from advertising. We have a modified experience for viewers using ad blockers

Wikia is not accessible if you've made further modifications. Remove the custom ad blocker rule(s) and the page will load as expected.