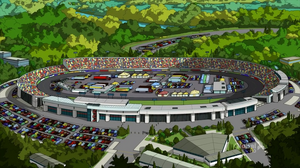 Richmond International Raceway is a 3/4-mile (1.2 km), D-shaped, asphalt race track located just outside Richmond, Virginia in Henrico County. In 2013, it was host to the NASCAR Sprint Cup Series and Nationwide Series.
Cleveland, Donna and the guys awake at Richmond in the middle of a NASCAR race after Cleveland challenges Donna to drink a beer in "The Hangover Part Tubbs". After the one drink turned into a wild night of debauchery, Holt points out a hole and says they "Bugs Bunnied" their way in underground. When Donna realizes that she needs to get back to Stoolbend in time for her debate for school board. Cleveland runs onto the track and stops the race by waving his yellow shirt and declaring a caution, causing the cars to crash. He gets aid from Tony Stewart and Dale Earnhardt Jr. who take Donna and Cleveland back in time to make the debate. Kasey Kahne tries to win the race by driving sensibly but his wheels fall off as he drives slowly forward.
Ad blocker interference detected!
Wikia is a free-to-use site that makes money from advertising. We have a modified experience for viewers using ad blockers

Wikia is not accessible if you've made further modifications. Remove the custom ad blocker rule(s) and the page will load as expected.