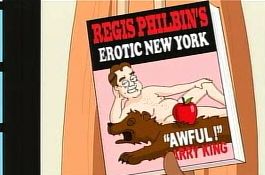 Regis Francis Xavier Philbin (born August 25, 1931) is an American media personality and occasional actor, known for fronting various talk and game shows. His trademarks include his excited manner, his New York Bronx accent, his wit, and irreverent ad-libs. He is most widely known for Live with Regis and Kelly, Who Wants to Be a Millionaire, Million Dollar Password, and for hosting the first season of America's Got Talent.
Regis appears on the cover of Donna's travel guide Regis Philbin's Erotic New York in "Once Upon a Tyne in New York".
Ad blocker interference detected!
Wikia is a free-to-use site that makes money from advertising. We have a modified experience for viewers using ad blockers

Wikia is not accessible if you've made further modifications. Remove the custom ad blocker rule(s) and the page will load as expected.