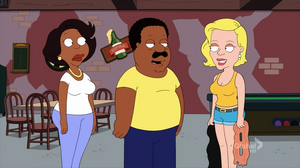 Laura Jeanne Reese Witherspoon (born March 22, 1976), better known as Reese Witherspoon, is an American actress and film producer. Witherspoon landed her first feature role as the female lead in The Man in the Moon. Other films include Legally Blonde, Sweet Home Alabama, Legally Blonde 2: Red, White & Blonde and Walk the Line, which earned her an Academy Award, Golden Globe, BAFTA, and Screen Actors Guild Award for Best Actress in a Leading Role.
Cleveland uses Witherspoon in the role of Gina when he tries to convince his family to return to Stoolbend in "California Dreamin'". Gina puts together an elaborate production and despite Cleveland's advice that she would be better suited behind the camera, insists on being an actor.
Ad blocker interference detected!
Wikia is a free-to-use site that makes money from advertising. We have a modified experience for viewers using ad blockers

Wikia is not accessible if you've made further modifications. Remove the custom ad blocker rule(s) and the page will load as expected.