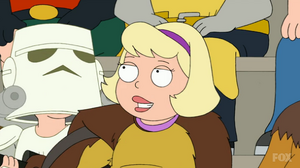 Rebecca is a girl in an Ewok costume at Comic-con. When Cleveland Brown Jr. tries to rally the nerds attending Comic-con to take back the convention from Hollywood in "Hot Cocoa Bang Bang", he assumes everyone is a boy. Rebecca takes off her costume head to prove that there are girls at the convention too. Jr. makes her his girlfriend, promising no butt stuff.
Rebecca is voiced by Eliza Jane Schneider.
Ad blocker interference detected!
Wikia is a free-to-use site that makes money from advertising. We have a modified experience for viewers using ad blockers

Wikia is not accessible if you've made further modifications. Remove the custom ad blocker rule(s) and the page will load as expected.