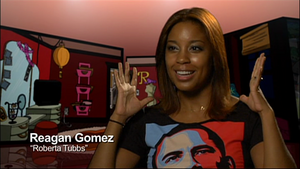 Reagan Gomez-Preston began her career in The Parent 'Hood, as Zaria Peterson. She guest starred on UPN's One on One (TV series) as Flex's younger sister/Brianna's Aunt. She also played Francine opposite Holly Robinson-Peete in the short-lived UPN sitcom, Love Inc. As well as being a former cast member of The Amanda Show.
She also appeared in music videos, "Sorry 2004" by Ruben Studdard; "No Better Love" by Young Gunz; & "Whatever You Like" by T.I.
She co-stars in The Cleveland Show as Roberta Tubbs, Cleveland's stepdaughter. Gomez replaced actress Nia Long, starting with "The Curious Case of Jr. Working at the Stool".
Ad blocker interference detected!
Wikia is a free-to-use site that makes money from advertising. We have a modified experience for viewers using ad blockers

Wikia is not accessible if you've made further modifications. Remove the custom ad blocker rule(s) and the page will load as expected.