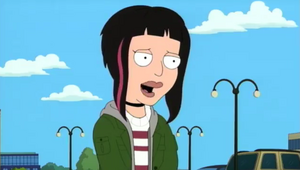 Rashida Leah Jones (born February 25, 1976) is an American film and television actress, comic book author, screenwriter and occasional singer. She has performed roles on Boston Public, The Office and in Parks and Recreation as well as roles in the films I Love You, Man, Our Idiot Brother and The Social Network.
Rashida provides the voice of Daisy in "All You Can Eat".
Ad blocker interference detected!
Wikia is a free-to-use site that makes money from advertising. We have a modified experience for viewers using ad blockers

Wikia is not accessible if you've made further modifications. Remove the custom ad blocker rule(s) and the page will load as expected.