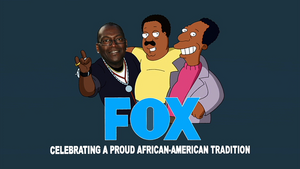 Randall Darius "Randy" Jackson (born June 23, 1956) is an American bassist, singer, record producer, music manager, A&R executive and television personality. He is best known as a judge on American Idol and Executive Producer for MTV's America's Best Dance Crew. Jackson has won a Grammy Award as a producer.
Randy appears with Cleveland and Carl from The Simpsons in a cutaway to promote black unity in "Brown History Month".
Ad blocker interference detected!
Wikia is a free-to-use site that makes money from advertising. We have a modified experience for viewers using ad blockers

Wikia is not accessible if you've made further modifications. Remove the custom ad blocker rule(s) and the page will load as expected.