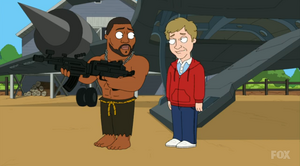 Quinton Ramone Jackson (born June 20, 1978), also known as Rampage Jackson, is an American mixed martial artist and actor. He is a former UFC Light-Heavyweight title holder.
He appears as himself in "How Cleveland Got His Groove Back" with Michael Cera in Roots II: Back to Africa.
Ad blocker interference detected!
Wikia is a free-to-use site that makes money from advertising. We have a modified experience for viewers using ad blockers

Wikia is not accessible if you've made further modifications. Remove the custom ad blocker rule(s) and the page will load as expected.