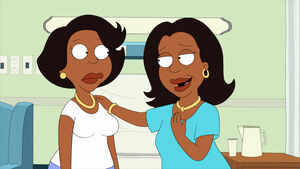 Phylicia Rashād (born Phylicia Ayers-Allen; June 19, 1948) is an American Tony Award winning actress and singer, best known for her role as Clair Huxtable on the long-running NBC sitcom The Cosby Show.
In "Field of Streams", Donna proclaims she will kill Phylicia Rashād. Phylicia co-starred in the 2008 production of A Raisin in the Sun with Donna's voice actor, Sanaa Lathan.
Phylicia provides the voice of Dee Dee Tubbs.
Ad blocker interference detected!
Wikia is a free-to-use site that makes money from advertising. We have a modified experience for viewers using ad blockers

Wikia is not accessible if you've made further modifications. Remove the custom ad blocker rule(s) and the page will load as expected.