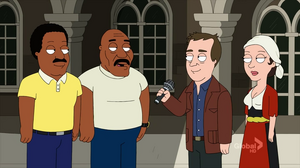 Philip John "Phil" Keoghan (born 31 May 1967) is a New Zealand-born television personality, best known for hosting the U.S. version of The Amazing Race on CBS, since its 2001 debut.
Phil congratulates LeVar Brown and Ebert Williams, filling in for Cleveland Brown as Levar's son, on winning The Amazing Race in "The Hangover Part Tubbs". As their price, they are awarded a Croatian woman.
Ad blocker interference detected!
Wikia is a free-to-use site that makes money from advertising. We have a modified experience for viewers using ad blockers

Wikia is not accessible if you've made further modifications. Remove the custom ad blocker rule(s) and the page will load as expected.