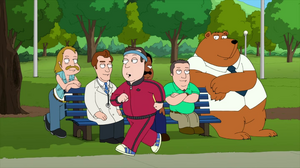 Pete is one of Dr. Fist's patients that he and the guys observe passing by in the park while hanging out in "Fist and the Furious". Dr. Fist share the dirt on his patients medical histories including the fact that Pete has herpes.
Ad blocker interference detected!
Wikia is a free-to-use site that makes money from advertising. We have a modified experience for viewers using ad blockers

Wikia is not accessible if you've made further modifications. Remove the custom ad blocker rule(s) and the page will load as expected.