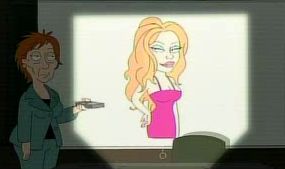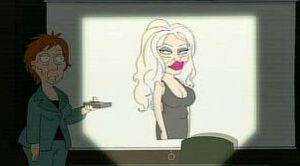 Pamela Denise Anderson is a Canadian/American actress, sex symbol, glamour model, producer, author, activist, and former Showgirl.
Anderson is best known for her roles on the television series Home Improvement, Baywatch, and V.I.P. She was chosen as a Playmate of the Month for Playboy magazine in February 1990. For a time, she was known as Pamela Anderson Lee (or Pamela Lee) after marrying Mötley Crüe drummer Tommy Lee. She holds both American and Canadian citizenship.
When Ms. Eck tries to show Roberta the folly of relying on her looks in "Love Rollercoaster", she shows examples of Pam Anderson, Kirsten Dunst and Meg Ryan after their looks had faded.
Ad blocker interference detected!
Wikia is a free-to-use site that makes money from advertising. We have a modified experience for viewers using ad blockers

Wikia is not accessible if you've made further modifications. Remove the custom ad blocker rule(s) and the page will load as expected.